[PODCAST] How to Master Outreach Marketing
JSB Talks Digital Podcast #91
JSB Talks Digital is a weekly digital marketing and social media podcast hosted by author, strategist, consultant, speaker and trainer Joanne Sweeney-Burke. Each Friday Joanne shares her digital marketing and social media insights from her work as CEO of Digital Training Institute. 
In this episode #91, I discuss the power of outreach marketing!
Coming up in today's show:
In Social Media News

Facebook ends Explorer News Feed Test
Twitter expands verification
LinkedIn Releases New Guide to Optimizing Your LinkedIn Ad Campaigns 

I interview Courtney Blair about the power of outreach marketing
Shoutouts – Three Outreach Marketing Experts
Ask JSB
In JSB's column, I share My Personal Outreach Approach to Hot Prospects
Find out what social media tool saved my working week
LISTEN: How to Master #OutreachMarketing | #JSBTalksDigital #Podcast
Click To Tweet
Listen now:
Social Media News
Facebook ends the explore Feed Test
After six months of testing, Facebook is finally closing the door on the Explore Feed.
Writing on the Facebook Blog, Adam Mosseri, Head of News Feed said Explore Feed was a trial response to consistent feedback from people who said they wanted to see more from family and friends in News Feed.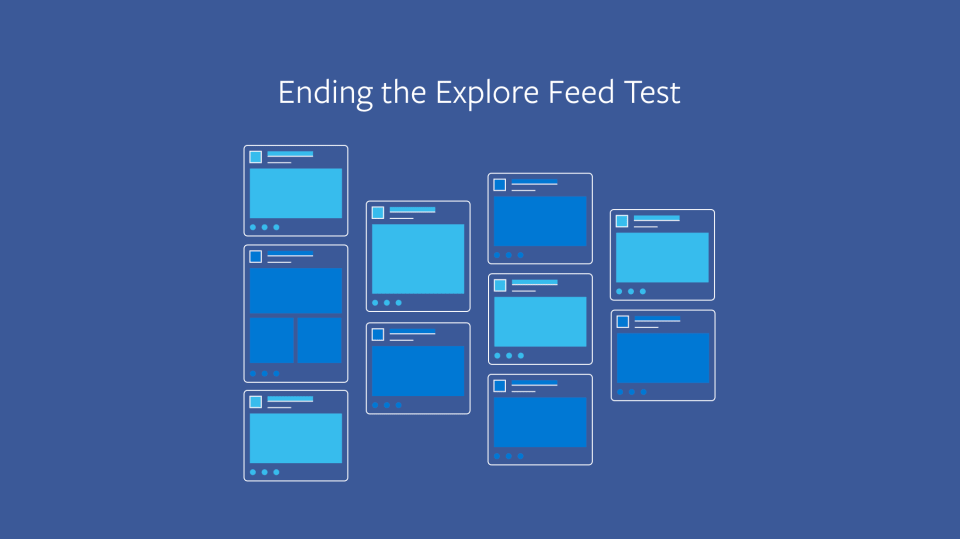 Source: hotinsocialmedia.com
"The idea was to create a version of Facebook with two different News Feeds: one as a dedicated place with posts from friends and family and another as a dedicated place for posts from Pages.

"To understand if people might like two separate feeds, we started a test in October 2017 in six countries.

You gave us our answer: People don't want two separate feeds. In surveys, people told us they were less satisfied with the posts they were seeing, and having two separate feeds didn't actually help them connect more with friends and family." 
***************** 
Twitter expands verification
For many social media influencers, getting the blue verified tick on Twitter is the ultimate status symbol. I have to admit, I had applied but got no response. 
However, there is hope for you and I!
Once reserved for major celebrities to indicate that the account was official and not fake, the trademark blue checkmark has expanded in recent years to include journalists and other public figures.
Now, according to a CNET report, the social media giant wants to make its use even more prevalent.
Twitter CEO Jack Dorsey said in a recent livestream that the company plans "to offer its blue-check-mark verification badge to more of its users."
He said the company is working on a new process to verify people's identity and ensure their credibility. 
*****************
LinkedIn Releases New Guide to Optimizing Your LinkedIn Ad Campaigns 
With Facebook organic reach dying and cost per acquisition increasing, it might be an idea to look at LinkedIn, if like me, you are a B2B business.
Their new eBook, The Secret Sauce to advertising on LinkedIn is packed with great insights and tips.
Source: LinkedIn
Here's what you'll learn:
How LinkedIn defines objectives for marketing on the platform
How they balance organic and paid
What they've learned about targeting, testing and optimising campaigns
Their approach to bidding and budget management
How they built an always-on content strategy
Download the LinkedIn Secret Sauce eBook
Interview with Courtney Blair
In this episode, I interview Courtney Blair founder of Zippy Content. Courtney started her business out of necessity.
When she was pregnant, desperate for work and unable to find it, she began contacting anyone and everyone she knew for work she could do from home.
Lo-and-behold, someone had something for her to do. It was her dad. He had his own online business in the psychology realm, and he wanted to be featured on podcasts.
Fast forward three years, and Zippy Content was born. Zippy Content now represents almost 100 entrepreneurs, authors, coaches, consultants from across the globe, and find them interviews on podcasts. Zippy Content is now expanding into a full-blown, multi-media PR agency.
Find out more about Courtney:
@tweetsbyJSB chats to Courtney Blair of Zippy Content on how to master #OutreachMarketing | #JSBTalksDigital
Click To Tweet
Listen to my interview with Courtney:
My favourite quote from our chat:
Shout-Outs: Three Outreach Marketing Experts
In this part of the show I give shoutouts to brands, organisations or individuals whose work online is remarkable and worth talking about.  
In this episode, I'm recommending the work of three outreach experts.
1. Syed Balkhi, Opt-in Monster
OptinMonster is great for inbound leads, but its founder Syed Balkhi says that they get a lot of mentions for OptinMonster but some of those mentions do not link back to their website.
His favourite tactic is to get his team to use BuzzSumo to identify these opportunities and reaching out to ask for the link.
Syed maintains that if you follow up quite quickly your success rate for getting links is high.
******************
 2. Ian Cleary, Outreach Plus
Dubliner, Ian Cleary, has launched a new tool called Outreach Plus which already made it to Tool of the Week on this podcast.
Ian says we must PAUSE before we outreach! He says:
"One of the biggest problems with outreach is when people blast out a large group of un-personalized emails and expect to get a great response.  You need to PAUSE before you send!"
******************
3. Adam Connell, Blogging Wizard 
Adam Connell of Blogging Wizard says you need a compelling pitch and a mutually beneficial offer to get bloggers and online sites to publish your content.
A big fan of outreach, Adam says instead of finding a prospect and pitching them right away, you connect with them first on multiple occasions and through different platforms. The idea is that when someone receives an email from somebody they recognize, they'll be far more likely to open it.
Most bloggers will get loads of emails each week from people they don't know. And most of them make zero effort.
Adam recommends subscribing to their email list and use that as a way to start a conversation directly. Just don't make the mistake of subscribing and replying to their first email to you with a pitch.
Three #OutreachMarketing experts: @syedbalkhi @IanCleary @adamjayc | #JSBTalksDigital #Podcast
Click To Tweet
Ask JSB
In this part of the show I bring the voice of my listeners onto the podcast.
This week's question comes from Jayann who works in a B2B media company targeting senior leaders for media training.
She wants to know how to target them with outreach.
Here's my top three tips:
Identify their top three pain points
Produce content that delivers solutions and speaks directly to them
Use LinkedIn to find 50-100 of your idea clients, connect and share this content with them
Don't forget if you have a burning social media or digital marketing question, simply click on digitaltraininginstitute.ie/askjsb and leave me a voicemail. You can also send me your question on any of our social networks.
JSB's Column: My Personal Outreach Approach to Hot Prospects
In today's JSB column, I share my personal outreach approach to hot prospects.
Problem:
Zero on my list.
Goal:
Position myself as the go-to expert among public sector marketers globally, build brand beyond Ireland, and build a hot list of 1000 leads in 90 days.
Solution:
Content marketing and outreach 101.
If you want help you're your outreach strategy, then get in touch. Simply email joanne@digitaltraining.ie.
Discover @tweetsbyJSB's personal outreach approach to hot prospects | #Podcast #JSBTalksDigital
Click To Tweet
Tune into the podcast to hear my approach!
Social Media Tool of the Week: Ahrefs
The social media tool that saved my working week this week is Ahrefs.
Ahrefs helps you to learn why your competitors are ranking so high and what you need to do to outrank them.
The tools you get with Ahrefs include:
Competitive Analysis
Keyword Research
Backlink Research
Content Research
Rank Tracking
Web Monitoring
You can take a 7-day trial for $7, simply log onto: https://ahrefs.com/
I love feedback
I'd love to know what you think about this episode. So please get in touch by commenting below or tweet me @tweetsbyJSB or send me a snap to @jsbsnaps.
Listen: JSB Talks Digital Episode #91
I would like to thank Eoghan Murphy aka The Galway Gamer for producing my podcast series and to Flirt FM on the campus of NUI, Galway where I am based for the use of their studio.