[PODCAST] How to Create an Audience Journey with Funnels
JSB Talks Digital Podcast #85
JSB Talks Digital is a weekly digital marketing and social media podcast hosted by author, strategist, consultant, speaker and trainer Joanne Sweeney-Burke. Each Friday Joanne shares her digital marketing and social media insights from her work as CEO of Digital Training Institute. 
In this episode, I explain the importance of creating funnels to take your customer on an online journey.
Coming up in today's show:
In Social Media News

Watch Party for Facebook Groups
GIF Stickers in Instagram Stories
Snapchat removes the white border from Snaps uploaded from Camera Roll

I interview Ruaidhri Prendergast, co-owner of Galway-based Ingenuity
In Shoutouts, I share three lead magnet ideas to kick-start your funnel
In Ask JSB, I answer the question: "How do you know if your funnel is working?"
In JSB's Column, I discuss how to convert your content into customers
Find out what social media tool saved my working week
Listen now:
LISTEN: How to Create an Audience Journey with Funnels | Featuring @askrory of @IngenuityEU #JSBTalksDigital #Podcast
Click To Tweet
Social Media News
Watch Party for Facebook Groups
Facebook is testing a new feature in Groups called Watch Party. Following on from its News Feed announcement that it will prioritize content that triggers conversations and comments all based around the theme of community.
In a Watch Party, members of a Group can watch videos together in the same space at the same time. Videos are chosen by the Group admins and moderators, and can be any public videos on Facebook (live or recorded).
With everyone watching, commenting and reacting to the same moments together, it creates a shared viewing experience for video that helps build the kind of community and engagement we've seen with Live.
With one billion people currently using Facebook Groups, this is a very warm audience to test the new feature with.
**********************
GIF Stickers in Instagram Stories
Instagram Stories just got a whole lot more fun! In a recent update, Insta Stories now allows us to add GIF stickers to any photo or video in our story.
To get started, swipe right or tap your icon under "Stories" to access the story camera as you normally would.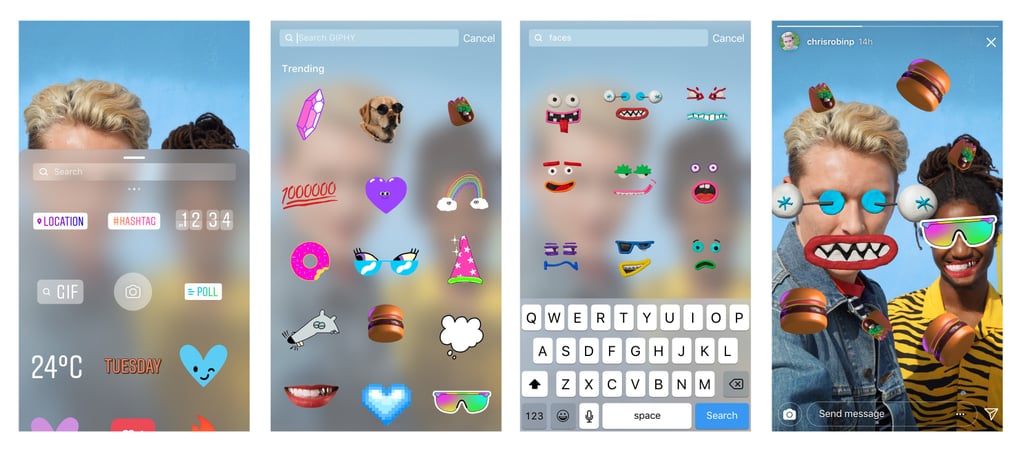 Source: Instagram
Once you take or choose a photo or video, you just tap the smiley sticker icon in the top-right corner of the display.
When you tap to add a sticker to a photo or video in stories, you'll now see a new GIF option. Tap it to open a library full of hundreds of thousands of moving stickers powered by GIPHY.
You can browse what's currently trending on GIPHY or search their extensive collection to find a sticker for just about anything.
**********************
Snapchat removes the white border from Snaps uploaded from Camera Roll 
So, you know that white border that goes around Snaps of photos from Camera Roll in Snapchat? It's now gone! The ugliness of that feature was so annoying but it was Snapchat's way of getting us to post fresh authentic content.
But it seems they've done away with the white border police. In a recent iOS update the white border is gone completely! You will still see a label that it has been uploaded from Camera Roll – just like on shared Snapchat Memories.
Interview | Ruaidhri Prendergast
In this episode, I interview Ruaidhri Prendergast from Ingenuity. I've been working with Ingenuity on my own online business – because it's important to have outside mentors even if you know what you are doing.
So, I decided to get Ruaidhri on the podcast after one of our recent meetings.
Ingenuity describe themselves as a company providing "World Domination Services". They only work on projects where they are confident they can generate ten times return on investment. They specialise in education and manufacturing sales and marketing. 
Find out more about Ingenuity:
Listen to my interview with Ruaidhri:
My favourite quote from our chat:
PODCAST: @askrory of @IngenuityEU on how to create an audience journey with funnels | #JSBTalksDigital
Click To Tweet
Shout-Outs: Three Lead Magnet Ideas
In this part of the show I give shout-outs to individuals, organisations or brands that are remarkable online and worth talking about.
In this episode, I'm sharing three lead magnet ideas to help launch your sales funnel.
Three #LeadMagnet ideas to help launch your sales funnel | #JSBTalksDigital #Podcast
Click To Tweet
So, what is a lead magnet I hear you ask?
Well, it's a piece of valuable content you provide to your ideal customer in exchange for their contact information. The lead magnet should solve a problem that you have identified for your customer. As we heard Ruaidhri say earlier, spending time understanding your customer is the key to online success.
The goal of the lead magnet is to maximize the number of targeted leads you are getting for an offer.
Remember, you must explicitly declare that by getting the lead magnet they may also be sent other relevant and targeted information. So be sure to have this outlined in your sign-up disclaimer.
Always be up-front with your customers. Remember we are here for the long-haul not the short-gain. They also should have an option to unsubscribe at any state with their data being deleted from your database.
So, with that cleared up, let's look at my top three lead magnet ideas!
1. A Guide
Producing an "Essential Guide To…" is a popular and trusted lead magnet.
I'm currently working on a Digital Communications Guide for Public Sector Marketing Pros. I know they are transitioning into full digital communications territory, but there is a lot of work to make that happen. So with my guide I will set out the steps they need to take to ensure all marketing teams are on the one page.
What guide can you create for your ideal customer and what problem is it solving?
Example of how your Guide Lead Magnet should look like:
**********************
2. Checklist  
JSB loves a checklist! And I think I'm not alone!
I have developed a checklist for press officers on how to re-purpose their press release for online reach. By following my ten steps, suddenly a traditional press release has the potential to rank on Page 1 of Google, exceed traditional media exposure with online amplification and even drive audience leads such as registrations, bookings, sales, subscriptions… or whatever your call to action is!
What checklist can you develop to help your customer out?
**********************
3. Templates
Templates provide a blueprint for a particular task to be carried out.
I have developed a template for my customers on how to deal with a PR crisis in the Digital Age. Having templates shows your expertise in your area of work and also provides great value to your customer. 
What template can you provide to your customers that will persuade them to go further into the customer journey with you?
Ask JSB
In this part of the show I bring the voice of my listeners onto the podcast.
"What is a funnel?" This is a common question that I get asked! But in this week's show I'm answering a different funnel question.
This week's question:
The question is from Anne Marie who reached out on LinkedIn…
"How do you know if your funnel is working?"
My answer:
Understanding your audience and their pain points is the first part of establishing your funnel. But you are right, you need to know if it's working or not.
The tools you use to set up your funnel will be crucial here and the data insights those provide.
There are three key metrics that you want to measure to establish whether your funnel is working.
Traffic to your landing page – this is the web page that you are navigating your audiences to.
Clicks and uptake of your lead magnet – this requires your audience responding positively to your lead magnet and providing you with their contact details to be taken further along the funnel
Conversion – this is when your ideal prospect decides to buy from you or in the case of public sector or non-profits, takes you up on your offer, for example to join a community.
Can I give you a word of caution here; It's unlikely you will get it right first time, it will require a bit of A/B testing and trial and error, so please don't give up on the first go! I should also point out that your funnel will most likely involve multiple steps before there is a transaction, and by mapping out your customer journey you will be able to build out your funnel.
Understanding your audience and their pain points is the first part of establishing your funnel | #JSBTalksDigital #Podcast
Click To Tweet
Don't forget if you have a burning social media or digital marketing question, simply click on digitaltraininginstitute.ie/askjsb and leave me a voicemail. You can also send me your question on any of our social networks.
JSB's Column | How to Convert your Content into Customers
In today's JSB column, I take you through the process of how to convert your content into customers with your sales funnel.
Content marketing is not just about being good at creating content, you need that content to convert. The secret to content converting is understanding intrinsically your audience sub-sets.
I spent four weeks brain-storming and fleshing out my ideal audiences and their problems during a recent workshop. While I know my ideal customer, because I work with them on a daily basis, I still had to take a step back and reflect on how I could help solve their problems online.
Taking time out of your busy daily routines is vital to allow valuable thinking time.
So, here's how I designed my funnel content that will convert into customers:
Tap into the customer's pain point – take one big issue for your prospect and speak to them directly with your language and tone.
Illustrate your authority – it's not good enough to simply know what your customer's problem is. You have to explicitly tell them that you are the go-to expert on this matter by providing evidence.
Provide a solution – when presenting a problem in your content, it's vital you offer a solution. Repeating and re-hashing problems will not win you favour online without being able to step in to offer solutions.
Diverse content types – by now we all know that our audiences span multiple digital channels and consumer multiple content types. It's therefore important that you provide your ideal prospect with a range of content types. For example, I produce video, podcast and blog content which is consumed on multiple channels such as my website, Spotify, iTunes, YouTube and re-sent via my email list. I also re-purpose the long-form content into short bite-size social content.
Amplify for greater reach – in the noisy world of social media, it's incumbent on us to target our content using the available advertising platforms. Social advertising also allows us to build-up warm or interested audiences that see our content. After all, we want people who want to hear from us to consume our content and those who don't we don't want to bother them.
Measure and iterate – by testing your content and funnel you get a real sense of what is resonating with your audiences. This is an ongoing process requirement performance measurement and iteration of tactics.
If you would like to hire JSB to help you develop your content marketing funnel as part of your overall digital marketing strategy then get in touch! Simply drop me an email to joanne@digitaltraining.ie.
'The secret to content converting is understanding intrinsically your audience sub-sets. | #JSBTalksDigital #Podcast
Click To Tweet
Social Media Tool of the Week | LearnDash
The tool that saved my working week is LearnDash. LearnDash is a Learning Management System (LMS) plugin for WordPress.
If you are selling online courses or have an in-house academy structure for continuing professional development, then you will need an online education and learning platform.
WordPress is responsible for about 20% of the world's websites and so many of us users love a plugin that will give us customised functionality.
I use LearnDash for my online policing course and will likely use it for this year's online programmes for public sector marketing pros.
In LearnDash you have 4 separate Custom Post Types: Courses, Lessons, Quizzes and Certificates.
In addition to the above, you also have an "Advanced Quiz" area, which is separated from its plugin counterparts and shown at the bottom of the WordPress dashboard.
Since the plugin uses Custom Post Types, the editing area for entering Course and Lesson content looks exactly like the regular WordPress editing screen, with almost all the same controls, including Featured Image.
Find out more at: https://www.learndash.com/
I love feedback
I'd love to know what you think about this episode. So please get in touch by commenting below or tweet me @tweetsbyJSB or send me a snap to @jsbsnaps.
Listen: JSB Talks Digital Episode #85
I would like to thank Eoghan Murphy aka The Galway Gamer for producing my podcast series and to Flirt FM on the campus of NUI, Galway where I am based for the use of their studio.